バージョン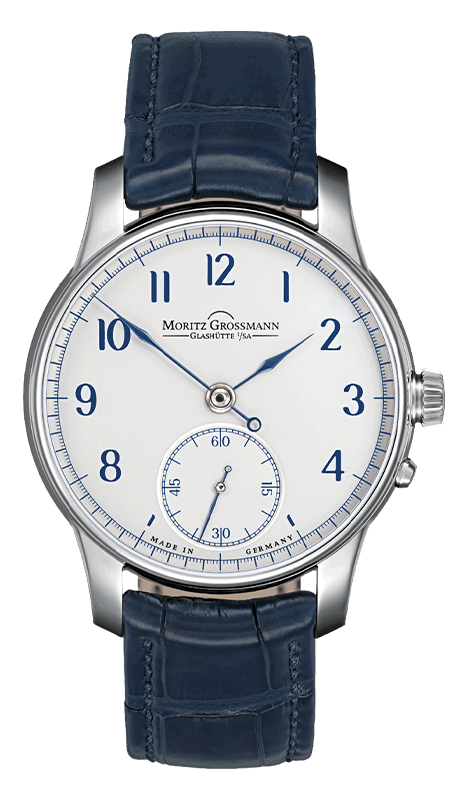 stainless steel
Gehäuse:stainless steel
Dial:White enamel dial, blue numerals
A classic one-off piece for a watch lover
The independent Glashütte watchmaker Moritz Grossmann will celebrate its tenth anniversary in November. To mark this occasion, the company will present a special model in the BENU line. The BENU Blue Steel is a one-off piece and combines cool stainless steel with white grand-feu enamel. This harmonises with blue colour components on the dial and in the movement.
The BENU Blue Steel showcases Moritz Grossmann's special watchmaking features and 19th-century craftsmanship. During his lifetime (1826-1885), the watchmaking pioneer produced pocket watches, pendulum clocks and measuring instruments that became famous worldwide. One of his trademarks were the very fine hands. They enabled an extremely precise reading of the time that was of great practical value, particularly with the measuring instruments.
The Moritz Grossmann manufactory still employs the finest German craftsmanship in the tradition of the man who gave the company its name and combines it with modern production methods. In the finissage, for example, the Grossmann hands are filed by hand, ground, polished and then annealed in colour over an open flame.
On the BENU Blue Steel, the hands light up in blue. Colour-wise, they harmonise with the Arabic numerals and the minute markers, as well as with elements inside the movement: the screws, the regulating nut and the back bushing are all also annealed in blue. The case in cool stainless steel and the dial in rich white grand-feu enamel form a contrast to these.
The Moritz Grossmann brand manufactures timepieces to the highest standard of craftsmanship under the slogan "Schönstes deutsches Handwerk". The BENU Blue Steel is offered with the calibre 100.1 in the high-artistic finish as a blue single edition 1 of 1.
The
calibre 100.1
Discover everything about the heart of the BENU Blue Steel.
Learn more
技術仕様
Movement
Manufacture calibre 100.1, manually wound, adjusted in five positions
Special features
Grossmann balance; lateral pusher for disabling the handsetting mode and starting the movement; space saving and modified Glashütte stopwork with backlash; adjustment with Grossmann micrometer screw on a cantilevered balance cock; Pillar movement with 2/3 plate and frame pillars in untreated German silver; 2/3 plate, balance cock, and escape-wheel cock engraved by hand; broad horizontal Glashütte ribbing; 3-band snailing on the ratchet wheel; raised gold chatons with pan-head screws; separately removable clutch winder; stop seconds for handsetting
Functions
Hours and minutes, subsidiary seconds with stop seconds, Grossmann winder with pusher
No. of jewels
20 jewels, 3 of which in screwed gold chatons
Escapement
Lever escapement
Oscillator
Shock-absorbed Grossmann balance with 4 inertia and 2 poising screws, Nivarox 1 balance spring with No. 80 Breguet terminal curve, Gerstenberger geometry
Frequency
18,000 semi-oscillations per hour
Power reserve
42 hours when fully wound
Operating elements
Crown to wind the watch and set the time, pusher to start the movement
Case dimensions
Diameter: 41.0 mm, height: 11.35 mm
Movement dimensions
Diameter: 36.4 mm, height: 5.0 mm
Case
Three-part, stainless steel
Dial
Grand-feu enamel, Arabic numerals
Hands
Hand-crafted, steel annealed to a brown-violet hue
Crystal/display back
Sapphire crystal, antireflection-coated on one side
Strap
Hand-stitched alligator strap with prong buckle